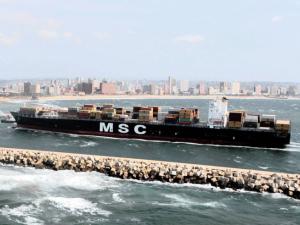 Safety issues delay plan to deepen Durban berths
Transnet will have to go back to the drawing board on the issue of deepening the berths at its Durban container terminal following reports that two of its environmental impact assessment (EIA) reports were rejected by the Department of Environmental Affairs.
Transnet National Port Authority (TNPA) chief executive Tau Morwe said on Friday that safety issues were delaying the deepening of berths. "We cannot compromise on safety."
The freight logistics parastatal's plans to deepen the berths from 12.8m to 16.5m at a cost of about R21.3 billion was projected to accommodate the use of larger vessels carrying more than 10 000 twenty-foot equivalent units (TEUs), which have become a growing trend among shipping companies. At the moment, big vessels have to employ a strategy of entering and exiting the port not fully laden and at high tide. This has been regarded as unsafe and costly for vessels.
According to media reports, the department has questioned the risks of a rise in sea level due to climate change. It also warned Transnet not to start any building at the berths until the final environmental assessment had been approved.
Morwe said Transnet had sent out about 33 EIA reports, and only two had been questioned. "We are in discussions with the department in order to give some clarification on some issues raised." In the interim, Transnet would be looking at other possible projects.
"While the project around berth deepening has been deferred, it gives us an opportunity to look at other projects around creating capacity at the terminal," Morwe said.
He agreed that it did not make sense for vessels to enter the port not fully laden, saying it created efficiency and logistics problems.
"Now that the deepening of the berths has been delayed, perhaps we should look at other projects, such as expansion of the terminal to Salisbury Island and maybe Maydon Wharf."
For the 2014/15 year, the TNPA will spend about R2.4bn on various projects including maintenance and other capacity expansion projects at the Richards Bay port.
Morwe said Transnet would also focus on the dig-out port plans in Durban, adding that the group was in discussion with a number of landowners around the area where the new port would be built. The plans to construct a dig-out port are driven by growing congestion at the Durban container terminal, which handles about 2.7 million TEUs of cargo a year. This is expected to rise to about 12 million TEUs by 2019. – Business Report